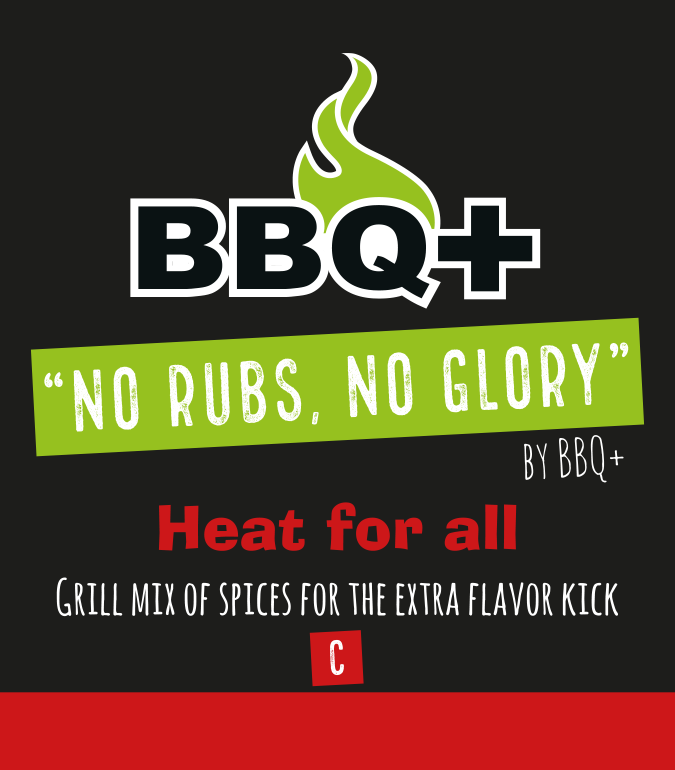 Heat for all is de kant-en_klare grill kruiden in deze lijn. Speciaal geselecteerde smaken om uw grill bbq gerecht nog lekkerder te maken, goed voor steak, vis, brochette en diverse groentes.
Anders dan de Rubs bevat Heat for All geen suikers, hierdoor kunt u deze kruiden goed gebruiken om uw gerechten te grillen. Suikers kunnen namelijk verbranden.
NL
De kruiden van BBQ+ zorgen voor een unieke smaak aan uw (barbecue) gerechten. Deze kruidige mix zorgt er voor dat uw gerecht een vollere smaak krijgt en daardoor nog lekkerder is. Pure kruiden, smakelijke specerijen die zorgvuldig zijn gedroogd. Enjoy!
Hoe gebruikt u een BBQ Grill kruiden: Strooi een lichte laag van deze kruiden 1,5 uur voor gebruik over uw vlees, vis en groente. Gaar daarna uw product op de Bbq, in de pan of oven.
In combinatie met de andere BBQ+ rubs met suikers geeft dit een mooi evenwicht tussen zoet en spicy.
GB
The herbs from BBQ + provide a unique taste to your (barbecue) dishes. This spicy mix ensures that your dish has a fuller taste and is therefore even tastier. Pure herbs, tasty spices that have been carefully dried. Enjoy!
How to use a BBQ grill spices: Sprinkle a light layer of these herbs over your meat, fish and vegetables 1.5 hours before use. Then cook your product on the Bbq, in the pan or oven. In combination with the other rubs with sugars, this gives a nice balance between sweet and spicy.